This display showcases powerful, thought provoking images from some of the most talented portrait painters of this century. Many have and do feature in national exhibitions and we are proud to bring this genre of art for the first time to the South East.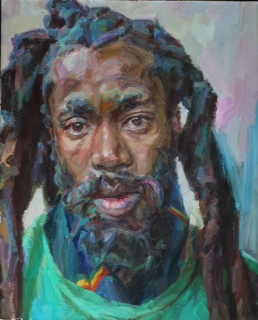 Images: 'Luyiso', Andrew James, 'Simon James', Merrie Curtis-Fuller, 'Deborah', Adele Wagstaff
On display will be brilliantly technical works that offer different approaches to the subject matter, the work can be:
Humorous
Unsettling
Contemporary
Traditional
Every image will leave a lasting impression on the viewer.
Artists include Frances Bell, Tim Benson, Samuel Dalby, Simon Davis, Miriam Escofet, Merrie Curtis-Fuller, Andrew James, Melissa Scott-Miller, Sarah Jane Moon, Danny Pockets, Allan Ramsay, Daniel Shadbolt, Adele Wagstaff, Flora Watson.
Face To Face - Young Peoples Exhibition
To accompany the main exhibition the Young Curators have created and exhibition of schools work which follows the theme of portraiture. On display are drawings from lots of ages with different styles. You can also do a fun activity sheet and take a framed selfie. Come and visit to see the artists of the future.
Open until 2nd July